US SKI & SNOWBOARD TEAM
Jessie Diggins
HOWEVER YOU FEEL, REALLY FEEL.
It's one thing to run the length of a marathon. It's another to run the length of a marathon up and over the top of a mountain.
What most people would probably call impossible, Jessie Diggins calls just another day at the office.
This cross country skier trains twice a day, six days a week. For up to four hours at a time without a break. The only thing as high energy as Jessie is her playlist. When training, she listens to high energy music with a good beat to help her battle fatigue and pain. And before a competition, it helps her forget her nerves.
And it must work. Because in 2013, Jessie and teammate Kikkan Randall became the first Americans to ever win a World Championship in cross country skiing. And now that she knows what's possible, there's no looking back.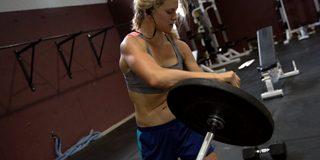 "HAVING HIGH ENERGY MUSIC HELPS ME FEEL EXCITED TO GO OUT AND TRAIN EVERY DAY."
The music powers your workout. And powerful technology tracks it. You can push even further, with no wires in the way. These sport headphones feature a built in heart rate sensor and StayHear+ tips to give you the information and stability you need to take your workout to the next level.