Overview
A better wireless experience.

A better wireless experience starts with what you hear. Bose on-ear wireless headphones are engineered for crisp, powerful sound that brings your music to life. They're lightweight and comfortable, perfect for all-day wear. With crystal-clear calls in any environment, durable materials and up to 15 hours of battery life, you can experience wireless freedom. And uncompromised performance.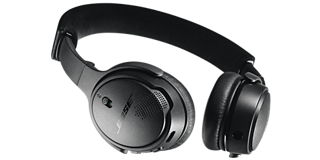 Consistent sound at high and low volumes.



SIRI & GOOGLE VOICE COMMANDS
Push the multi-function button to access Siri or your Google Assistant.


Up to 15 hours of battery life.


We'll talk you through Bluetooth® pairing.
Exclusive technologies deliver
Better technology makes for a better wireless experience. Our TriPort technology works with Active EQ to deliver sound that's clear and powerful—at any volume.
Listening hands-free at work? Get consistent performance at lower volumes.

Turning it up for your commute? Your music gets deep, immersive sound when you want it loud.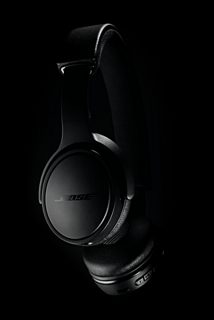 Wireless freedom and easy control
Get deep, immersive sound and seamlessly switch between two Bluetooth devices without missing a beat of your music—and multi-function controls on the right earcup mean you don't have to reach for your device to change volume or tracks. Want to access your phone's Siri or your Google Assistant? You can leave your phone in your pocket for that, too. You get access to either one, right from the controls.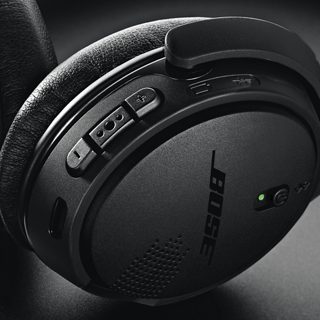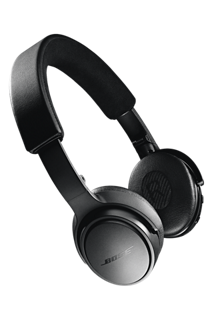 You want to listen all day. So we designed them for all-day wear. A featherweight fit with an adjustable headband that rests gently on your head gives you superior comfort. Soft cushions cradle your ears and all materials are durable and built to last. The earcups fold up so you can store them in the compact carrying case. And there's an extra cable, so you can plug in and listen if the battery runs out.

And for times when you have to take a call, these are designed to optimise communication on both ends—even if you're on a noisy or windy city street. Dual microphones reduce background noise to make sure your voice is heard. And you'll hear your caller's voice clearly, because Bose technologies automatically adjust to your headphones' volume as the noise around you changes.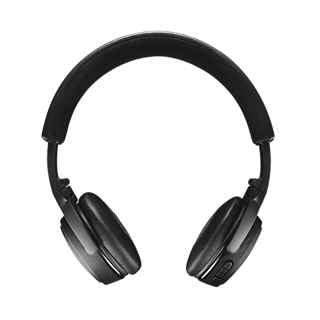 Specs
Dimensions/weight
Headphones:

18 cm H x 14 cm W x 6 cm D (161.6 g)

Audio cable only:

1.2 m

USB cable:

30.1 cm

Carrying case:

12.7 cm H x 12.7 cm W x 5.8 cm D
Additional details
Wireless range: 9 m (30 ft)

Battery life: Up to 15 hours

Charging time: 1.5 hours for full charge

Quick charge: 15 minutes for 2 hours play time
WHAT'S IN THE BOX
Bose on-ear wireless headphones

Audio cable

USB cable

Carrying case
FAQs
Is my tablet or smartphone compatible with Bose on-ear wireless headphones?
Yes. These headphones are compatible with other Bluetooth® devices using Bluetooth 2.1 (or later) specifications that support the Bluetooth A2DP hands-free and headset profiles.
Can Bose on-ear wireless headphones connect to two devices simultaneously?
Yes. The headphones can keep a connection to two Bluetooth devices at the same time by using multipoint technology.

Can I use Bose on-ear wireless headphones with my TV? Would they work with a Bluetooth transmitter?
No. Most TVs don't have Bluetooth functionality. Although a transmitter will technically work, there may be a distracting delay between the audio and video.
Can I use these headphones for VoIP calls?
Yes. The headphones will work with Voice over Internet Protocol (VoIP) apps on mobile devices that support the Bluetooth hands-free profile.
Do Bose on-ear wireless headphones work with voice recognition apps?
Yes. Just press and hold the multi-function button for three seconds to initiate voice recognition with any mobile device that supports this feature.
Are these headphones noise cancelling?
No. While Bose on-ear wireless headphones may physically block some noise, they aren't specifically designed for this purpose and don't include active noise cancelling technology.
Can I use the headphones with my portable or home audio equipment?
Yes. You can use Bose on-ear wireless headphones to listen to your favourite audio sources—DVD/CD players, digital music players, computers—with the audio cable included in the package. They will sound a bit different, however, because the powered electronics that implement the active EQ are only available when listening via a wireless connection.
Can I listen to music even if the battery has run out?
Yes. You're still able to play audio if the rechargeable battery power is depleted and the headphones are turned off. Just use the included audio cable.
Can the headphones be used for gaming?
No. Most gaming consoles do not use the same Bluetooth protocols as Bose on-ear wireless headphones. In general, the audio/video delay will be excessive and most noticeable in games where action and audio are supposed to be synchronised. Players of casual games with sound effects may not have an issue.
Can I turn off the voice prompts?
Yes. When the headphones are connected to a Bluetooth device, press and hold the volume + and volume – buttons together for three seconds.
Can I change the language of the voice prompts?
Support
Owner's guide
Quick start guide