Overview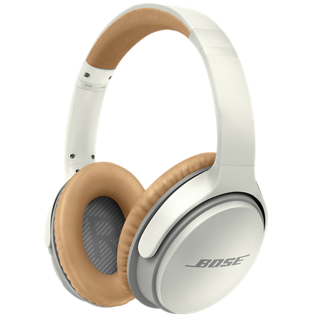 Wireless freedom. Uncompromised performance.
Music makes you feel free. Wires shouldn't get in the way of that. SoundLink wireless headphones—Refurbished are engineered for exceptional sound, which stays consistent at any volume thanks to a combination of exclusive technologies. With clear calls in any environment, durable materials and a comfortable fit, you can experience wireless freedom. And uncompromised performance.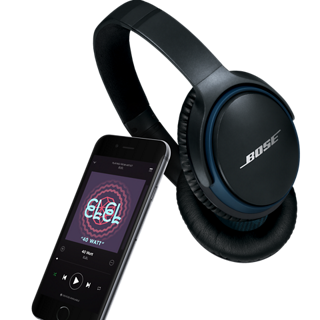 Nothing between you and your music
If you didn't think wireless headphones could sound as good as wired, wait until you hear ours. Get deep, immersive sound and seamlessly switch between two Bluetooth® devices without missing a beat of your music—and multi-function controls on the right earcup mean you don't have to reach for your device to change volume or tracks. And for NFC-enabled phones, just tap the device to the side of the right earcup for quick and easy pairing.* These are headphones engineered to deliver a better wireless experience—because nothing should come between you and your music.
* The NFC function in iPhone 6/6 Plus or 7/7 Plus only enables Apple Pay functionality. It doesn't facilitate pairing. Please use pairing instructions for phones that are not NFC enabled.
Exclusive technologies deliver
A better wireless experience starts with what you hear. With a combination of TriPort technology and Active EQ, SoundLink wireless headphones—Refurbished deliver crisp, powerful sound at any volume.
Low volume
Listening hands-free at work? Get consistent performance at lower volumes.
High volume
Turning it up for your commute? Your music gets deep, immersive sound when you want it loud.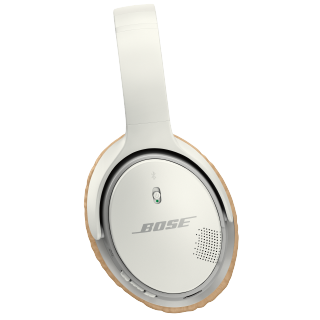 Crystal-clear calls
When you're listening all day, chances are you'll have to take a call. These are designed to optimise communication at both ends. An advanced mic system with HD Voice provides clarity even when it's windy, while controls on the earcup let you take/end calls without reaching for your device. And with enhanced sidetone, you'll sound as natural as if you weren't wearing headphones.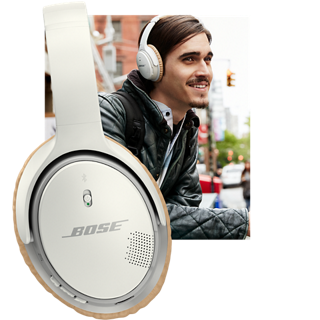 An app can make the difference
We want you to get the most out of your headphones. So we designed this free app that makes connecting and switching between devices easier than ever. It also provides product tips and lets you personalise your settings, so you can make them all yours. See how a simple, intuitive app makes all the difference.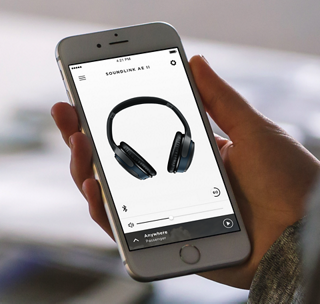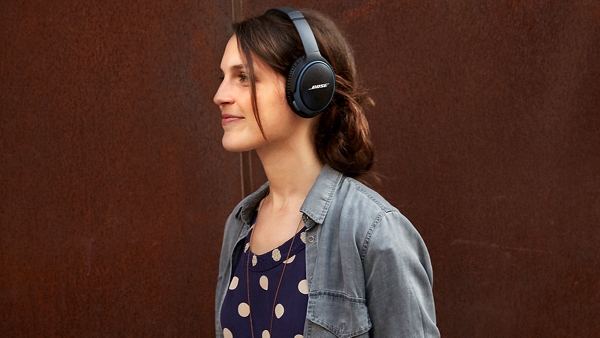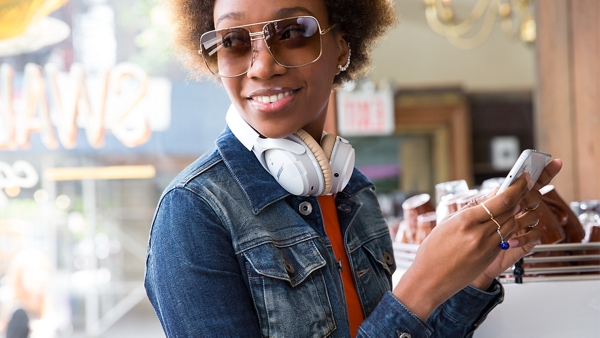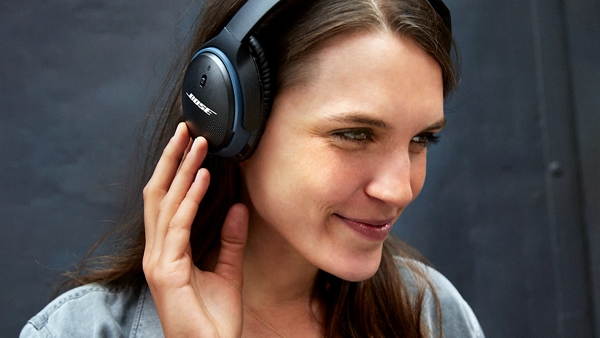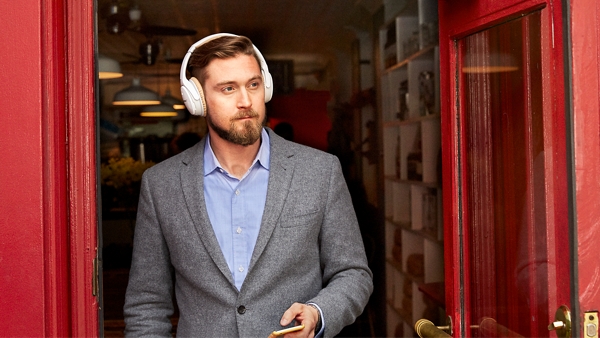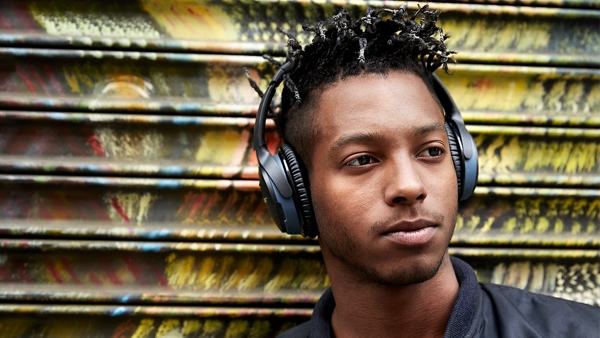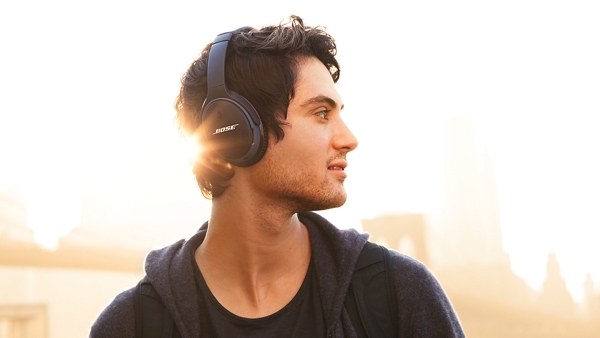 Built better
When you want to take your music anywhere, you need headphones built to keep up. With impact-resistant materials, glass-filled nylon and corrosion-resistant stainless steel, these are engineered to survive life on the go.
Their superior comfort means they're built for all-day listening, too. The continuous headband design features a micro suede Alcantara® cushion that evenly distributes weight and enhances stability. The soft-cushion earcups provide a comfortable around-ear fit.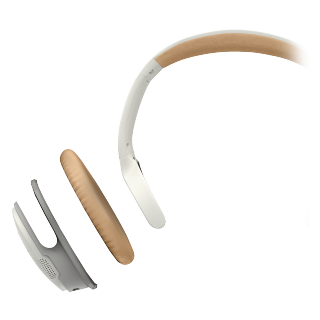 Specs
Dimensions/weight
Headphones:

19.1 cm H x 15.2 cm W x 3.8 cm D (200 g)

Ear cushion:

9.6 cm H x 7.4 cm W
Additional details
Wireless range up to 9 m (30 ft)

Charging time: 3 hours' full charge = 15 hours of play time (15-minute quick charge = 2 hours of play time)
In the box
SoundLink around-ear wireless headphones II—Refurbished

USB charging cable

Backup audio cable

Carry case
FAQs
What is a Bose Refurbished product?
Refurbished products are a great way to enjoy Bose performance at outstanding value. A Refurbished product is one that's been returned to Bose, for any reason.
It's then thoroughly inspected, tested and serviced to meet strict Bose sound quality standards—the same as for a new product. Appearance is closely examined; products occasionally have minor, nearly imperceptible blemishes. All Refurbished products have the same warranty as new products. And are available only from Bose. Quantities are limited.

Is my tablet or smartphone compatible with SoundLink® around-ear wireless headphones II?
Bose SoundLink® around-ear wireless headphones II are compatible with other Bluetooth devices that use Bluetooth 2.1 (or later) specifications that support the Bluetooth A2DP, hands-free and headset profiles.
Can these headphones simultaneously be connected to two devices?
Yes, they can maintain a connection to two Bluetooth devices at the same time by using multipoint technology.
What is NFC?
Near Field Communication (NFC) is a short-range wireless technology that enables two NFC-enabled devices to communicate when they are placed in close proximity with one another, typically less than 10 cm (4"). When an NFC-enabled device, such as a smartphone, is placed near the right earcup of the headphones, it pairs them to the device via Bluetooth. Placing the device near the earcup a second time will unpair the headphones.
How do I pair SoundLink around-ear headphones II with my mobile device?
For NFC-enabled phones, simply turn on the headphones by sliding the three-position power switch to the middle position. Then tap the back side of your phone on the front of the right earcup where you see the embossed NFC logo and follow the prompt to accept a connection. If you don't have an NFC-enabled phone, first make sure the headphones are turned on by sliding the power switch to the middle position. Next, press the power switch to the Bluetooth icon until the Bluetooth LED flashes blue or the voice-enhanced user interface gives you additional directions. Now, follow the directions within the smartphone's Bluetooth menu to connect the headphones. The NFC function on iPhone 6/6 Plus or 7/7 Plus only enables Apple Pay functionality. It doesn't facilitate pairing. Please use pairing instructions for phones that are not NFC enabled.

Do these headphones work with my TV? Would they work with a Bluetooth transmitter?
No. Many TVs do not have wireless Bluetooth functionality. Although a transmitter will technically work, the experience does not meet Bose expectations. There will be a distracting delay between the audio and video that detracts from the experience.

Can these headphones be used for VoIP?
Yes. If the source being used for VoIP is Bluetooth technology enabled with the hands-free profile, Bose SoundLink® around-ear wireless headphones II can be used for your calls.
Why is an audio cable included in the box?
The audio cable lets you listen to Bose SoundLink® around-ear wireless headphones II with non-Bluetooth devices (MP3, CD and DVD players, PCs), in circumstances when a Bluetooth connection is not available or the headphones' battery is depleted. Note that the audio will sound different because the headphones won't have the power electronics that implement the Active EQ built into the wireless control module.
Can these headphones be used for gaming?
No. Most gaming consoles do not use the same Bluetooth protocols as SoundLink® headphones. A2DP is necessary for audio with the headphones, so they would only work for communications, not game audio. In general, the audio/video delay will be excessive and most noticeable in games where action and audio are supposed to be synchronised. Players of casual games with sound effects may not have an issue.
Support
Owner's guide
Quick start guide