Overview
Little speaker. Big goosebumps.
We took our sound in a new direction. Every direction.
Meet SoundLink Revolve, one of our best performing portable Bluetooth speakers yet. It delivers true 360° sound for consistent, uniform coverage. Place it in the centre of the room and everyone gets the same experience. Or set it near a wall and sound will radiate and reflect around the room, immersing you. Taking it outdoors? Great, it's meant to go where you go.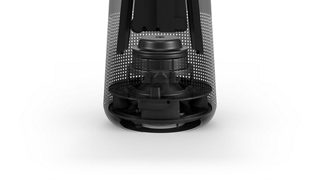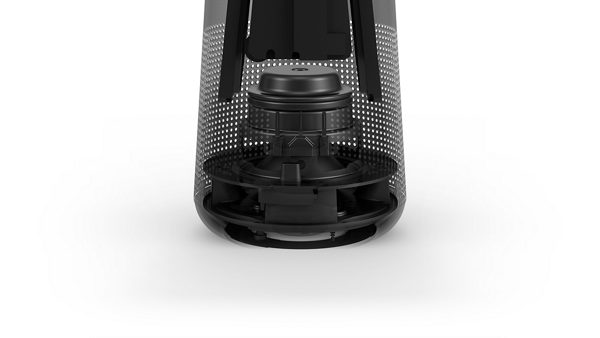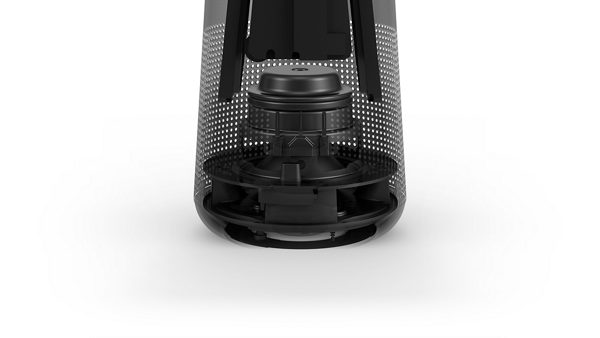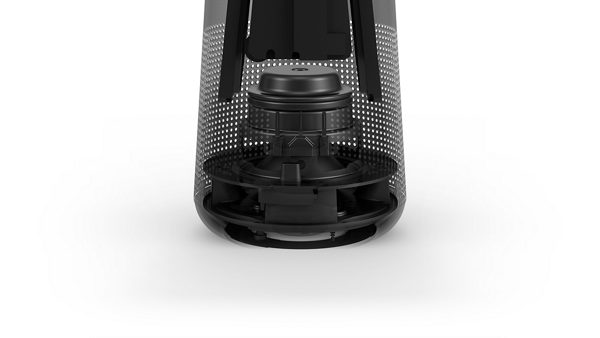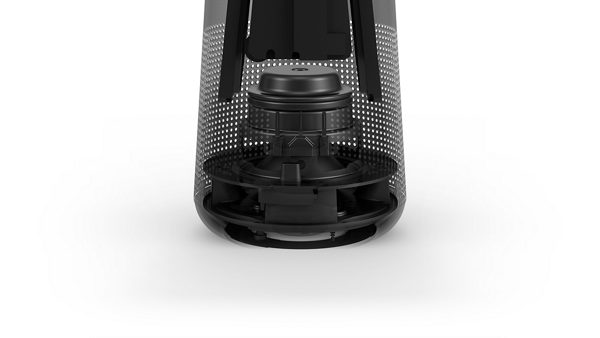 Dual-passive radiators
Deliver high quality, low note performance and reduce wasteful vibration by turning it into acoustic output.

Transducer
Downward-facing, full-range transducer works with acoustic deflector for 360° sound.
Omnidirectional acoustic deflector
Spreads sound evenly—without a single dead zone—for uniform coverage.
Astonishingly loud. Surprisingly small.

Don't let its size fool you. This pint sized enclosure is packed with more technology than meets the eye. A highly efficient transducer. Dual-passive radiators. An omnidirectional acoustic deflector. All of which simply means you'll get lifelike sound… and real-life goosebumps.

You're not afraid of a little water. Your speaker shouldn't be either. SoundLink Revolve's water-resistant design means that you can use it in more places without worrying, like at the pool or by the kitchen sink.
ADD MORE SOUND AROUND THE HOUSE
Want to listen to the same music in different rooms at the same time? You can always group two or more Bose Home Speakers together—and now, with Bose SimpleSync™ technology, you can also group a Bose Home Speaker with a Bose SoundLink Bluetooth and play them both in perfect sync.

One app. Complete control.
The Bose Connect app gives you easy access to everything your product has to offer. Get tips, unlock product features and personalise your settings, so you can spend more time enjoying the music instead of setting it up.
You can also easily manage your speaker's BLUETOOTH® connections with a single swipe, so everyone can have a turn being the DJ. And when loud just isn't loud enough, turn it up with Party Mode to play two wireless speakers simultaneously. Or switch to Stereo Mode for dedicated left and right playback, giving you a full and dynamic surround sound experience.

An optional charging cradle keeps your SoundLink Revolve charged and ready. It's a convenient home base for your speaker, and you can play your music while it charges. Just plug the wall charger included with your speakers into the cradle.

Make a connection. It's easy. Voice prompts talk you through Bluetooth pairing. You can connect to two devices—and the speaker remembers the eight most recently connected devices.

You've seen it before. Everyone crowded around with one friend on speakerphone. You struggle to hear them, they struggle to hear you. Not anymore. SoundLink Revolve speakers let you take calls right through the speaker, so words are clearer and less muffled.


SIRI & GOOGLE VOICE COMMANDS
Don't have your phone handy? Don't worry. Just press and hold the multi-function button to access the voice input for Siri or your Google Assistant right from the speaker.

SoundLink Revolve's water resistant design means that you can use it in more places without worrying. With extensive testing and an IPX4 rating, we've ensured your speaker will long outlast an accidental showering of water.

A portable speaker needs impressive battery life. This one delivers. The rechargeable lithium-ion battery plays up to 12 hours.

No surface? No problem. A universal thread lets you attach SoundLink Revolve to just about any tripod.
Find the perfect speaker for your outdoor adventure

How's the 360° sound treating you? Whether you're on the go or playing at home, we want to hear about it. Post your photos on Instagram using #SoundLink and tag @Bose to share your story.
Specs
Speaker:

15.2 cm H x 8.2 cm W x 8.2 cm D (0.66 kg)
3.5 mm auxiliary input

Micro-B USB port
Wireless range up to 9 m (30 ft.)

Battery life up to 12 hours
SoundLink Revolve speaker

USB power supply

USB cable

AC power adapters
FAQs
What is the difference between SoundLink Revolve and the larger SoundLink Revolve+?
SoundLink Revolve+ is larger and generates higher-volume, more room-filling sound than SoundLink Revolve. SoundLink Revolve+ also has a carrying handle to make portability easier given its larger diameter. SoundLink Revolve+ has a battery life of up to 16 hours, while SoundLink Revolve has a battery life of up to 12 hours. All other features are identical.
What kind of audio sources can I use with the SoundLink Revolve speakers?
The audio connection options for the SoundLink Revolve and Revolve+ are Bluetooth and 3.5-mm stereo audio cable. NFC can also help facilitate Bluetooth pairing.
Can two SoundLink Revolve speakers be wirelessly linked together in Party Mode?
Yes, using the Bose Connect app, you can enable Party Mode from any of the following Bose Bluetooth speakers: SoundLink Revolve and SoundLink Revolve+.
Do SoundLink Revolve speakers support Wi-Fi® or WiDi®?
No. The speakers' wireless connection is Bluetooth only.
What is the wireless range of SoundLink Revolve speakers?
The speakers have a wireless range of up to 9 m (30 ft). Performance can be affected by obstacles such as walls, interference from Wi-Fi or other wireless devices.
How many devices can pair with SoundLink Revolve speakers?
SoundLink Revolve speakers keep track of the last eight devices that were paired and connected to them, dropping the least recently used device when a new one is paired.
Can I stream music (Spotify, Deezer etc.) from my computer to the speaker?
Yes, as long as your computer is enabled for Bluetooth and is within 9 metres of the speaker.
What happens when my phone is streaming music and a call comes in?
When a call comes in, the music will pause and the call will ring through the speaker. You can answer the call by pressing the multi-function button and talk into the speaker itself to conduct your phone call. When you end your call, music playback will resume.
What is the battery performance of the SoundLink Revolve and Revolve+ Bluetooth speakers?
In typical usage, the SoundLink Revolve battery lasts up to 12 hours and the SoundLink Revolve+ lasts up to 16 hours. Battery performance can vary depending on the content played and the volume at which it is played.
How long does it take to charge the SoundLink Revolve and Revolve+ Bluetooth speakers' battery?
While not playing music, much of the SoundLink Revolve speakers' battery charge can be recovered in approximately four hours when using a USB power source. Charging from alternative USB power sources or when playing music may take longer.
What purpose do the voice prompts on the speaker serve?
They provide guidance during the Bluetooth pairing and connection process. They also identify the connected source devices by text to speech, simplifying usage with more than one source device.
Can the voice prompts be disabled?
Yes. Simply press the "+" (volume up) and "–" (volume down) buttons simultaneously.
Can the SoundLink Revolve and Revolve+ Bluetooth speakers be used to provide audio for video, such as when watching a movie on a tablet?
Yes. However, the quality of the experience—specifically, synchronisation between audio and video—may be compromised due to various signal processing technologies implemented in the speakers. This is true especially when using Bluetooth as your input. For better synchronisation and lower latency, we recommend you use the Auxiliary or USB Audio inputs. For the best experience, please update your speaker's software.

What does the IPX4 rating mean for the water-resistant SoundLink Revolve speakers?
The IPX4 rating classifies the degrees of protection provided against the intrusion of solid objects (including body parts like hands and fingers), dust, accidental contact and water in electrical enclosures. For SoundLink Revolve and Revolve+, we've stretched beyond the required testing parameters to ensure that your speaker will long outlast an accidental showering of water. This means that you can use SoundLink Revolve and Revolve+ in more places without worrying if it gets wet (for example, splashes at the pool, getting caught in the rain, washing your car, splashes in the kitchen etc.). Just don't submerge it.
Are SoundLink® Revolve and Revolve+ speakers compatible with the Amazon Echo Dot?
Yes. You can connect any Bose Bluetooth® speaker to the Amazon Echo Dot. The Echo Dot connects to the Alexa Voice Service to play music, provide information, news, sports scores, weather and more—instantly.
Support
Owner's guide
Quick start guide
Safety instructions