SEARCH
Enter a search term in the field above.
Nothing found. Please enter a valid search (e.g. connection help, no audio from headphones etc.).
Back to article
3330
Cannot connect a Bluetooth® device
If you are unable to pair a Bluetooth device (i.e. mobile phone, tablet or computer) to your product, try the following:
Try the step-by-step instructions for connecting your Bose product to a Bluetooth® device.
While using the app, try keeping your product within 6 feet (1.8 m) of the device running the Bose app.
While making changes to your product using the Bose app, keep your product close by the device you are trying to connect.
Briefly place your Sleepbuds in the charging case, then remove them.
Place your Sleepbuds in the case and wait for the charging lights to slowly blink white. Then, remove your Sleepbuds from the case and try again.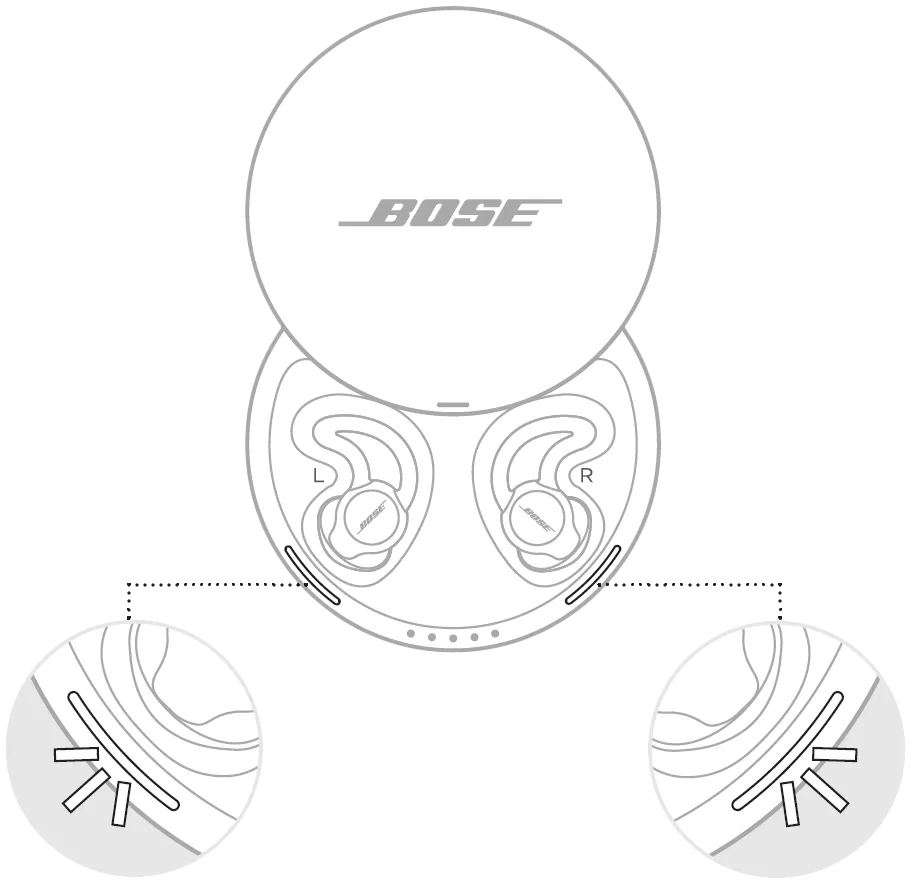 Check that both Sleepbuds are sufficiently charged.
In the Sleep app, check the remaining battery level of your Sleepbuds. If one or both are not sufficiently charged, place them in the charging case until the battery level increases. For a full night's sleep, it is best to fully charge your Sleepbuds to ensure they will play all night and alarms will sound, if set.
If your Sleepbuds won't connect after updating, be sure the charging case has updated too.
Updates for your product generally include an update for the Sleepbuds and an update for the charging case. After your Sleepbuds update, you'll need to place them in the charging case for the case to update. While the case is updating, the 5 small lights on the case will scroll. Once the lights stop (typically after a few minutes), remove your Sleepbuds and try again.
Reset your product.
Much like rebooting a smartphone, your product might need to be reset on occasion to correct minor issues. For more info, see
Resetting your product
.
Reboot the Bluetooth® device.
Electronics might need to be reset on occassion to correct minor issues. This is typically done by shutting down the device, then powering it on again.
Be sure the sleepbuds are not connected to another device.
The sleepbuds will only connect to one device at a time. If you have the Sleep app installed on more than one device, they may be connected to the other device. Make sure they are disconnected from any additional devices.
If you're trying to connect a device using the Bose app, here are some suggestions.
Check for and install any available product updates.
Your product may need service.
If the steps provided do not resolve your issue, your product may need service. Follow the link below for more information on how to service your product. Depending on your product and region, you will be provided a contact number or the ability to setup service online.
Click here to start service
Was this article helpful?
Thank you for your feedback!